US Deploys Airmen, F-35 Fighter Jets to Germany Amid 'Russian Invasion' Fears
February 18, 2022
The United States has deployed fighter jets to Germany, U.S. Air Force Reserve Command (AFRC) announced in a statement on Wednesday.
Several F-35A Lightning II fighter jets arrived at Germany's Spangdahlem Air Base on Wednesday, along with pilots, maintainers, and support personnel from the active duty 388th and Reserve 419th Fighter Wing—the Air Force's first active duty combat-capable F-35A Lighting II unit.
"Our Airmen and aircraft were ready to go. I'm thankful for their hard work, and all of the support we received from Hill Air Force Base to get out the door," Col. Craig Andrle, 388th Fighter Wing commander, said in a statement. "This deployment proves we can provide our Air Force the capabilities of the F-35A anywhere in the world rapidly."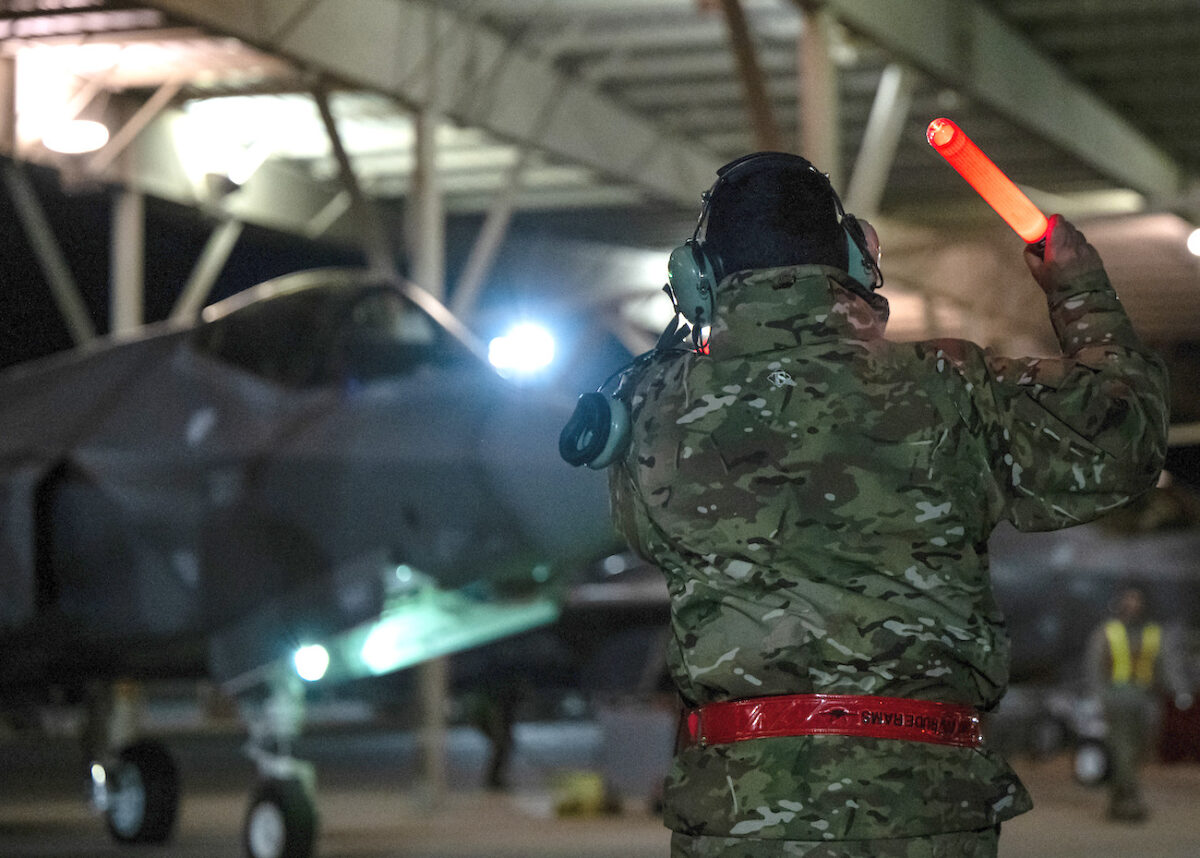 The deployment has the "full cooperation of the German government" and is intended to "bolster readiness, enhance NATO's collective defense posture and further increase air integration capabilities with Allied and Partner nations," according to AFRC. "The aircraft are equipped for a variety of missions to deter aggression and defend Allies should deterrence fail."
"We are facing a dynamic environment and this deployment significantly enhances our support to NATO's defenses," Gen. Jeff Harrigian, Commander U.S. Air Forces in Europe and Air Forces Africa and Commander Allied Air Command, said in a statement.
Besides the F-35A deployment, the United States has also deployed eight F-15E fighter jets to Lask, as well as six refueling aircraft—KC-135 Stratotankers—to Ramstein Air Base, Germany.

"These deployments were conducted in full coordination with host nations and NATO military authorities, and although temporary in nature, they are prudent measures to increase readiness and enhance NATOs collective defense during this period of uncertainty," reads the AFRC statement.
Earlier this month, the Pentagon announced it was going to send 3,000 troops to Eastern European ally countries—Germany, Poland, and Romania—to boost allied forces amid allegations from Western leaders of an imminent invasion of Russia into neighboring Ukraine.
On Feb. 15, Russia's Defense Ministry spokesman Igor Konashenkov said in a statement that the country was withdrawing some troops near the Ukrainian border. The Russian units had been taking part in military exercises in the region. It was unclear how many troops Russia was seeking to withdraw.
The same day, President Joe Biden warned in a speech that more than 150,000 Russian soldiers were massed along Ukraine's borders, that the United States has "not yet verified" that any troops are pulling back, and that a Russian invasion is "still very much a possibility."
On Feb. 16, NATO officials said Moscow was still adding troops at the border with Ukraine.
"We have not seen any withdrawal of Russian forces. And of course, that contradicts the message of diplomatic efforts," NATO Secretary-General Jens Stoltenberg told reporters. "What we see is that they have increased the number of troops, and more troops are on their way. So, so far, no de-escalation."
Late on Feb. 16, a senior Biden administration official told reporters, "We have now confirmed that in the last several days, Russia has increased its troop presence along the Ukrainian border by as many as 7,000 troops, with some arriving as recently as today." The official added that the Russian government's announcement of withdrawing troops from Ukraine is false.
Russian Foreign Ministry spokeswoman Maria Zakharova said on Feb. 16 that Western media were trying to trigger a war in Eastern Europe. "To the regret of many Western mass media, once again, the war failed to begin. They had gone to great lengths trying to make it a reality," she said, per Russia's TASS news agency.
Secretary of State Antony Blinken said on Feb. 14 that the United States was relocating its embassy in Ukraine's Kyiv to Lviv "due to the dramatic acceleration in the buildup of Russian forces." In the days prior, Biden administration officials said Russia had plans to attack Ukraine soon, possibly before the Winter Olympics concludes on Feb. 20. However, they provided no details or evidence.